: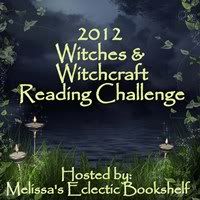 About the challenge:
Join the 2012 Witches & Witchcraft Reading Challenge at Melissa's Eclectic Bookshelf! Any full length book that includes a witch as a main character or major witchcraft elements counts. They may be fiction or non-fiction. Let's have some Witchy Good Fun !!!
Go here:
http://melissaseclecticbookshelf.blogspot.com/2011/12/2012-witches-witchcraft-reading.html
Read the rules and have a great time!
You can WIN a PRIZE, but even if you don't it will be great fun!!!